In August 2017, a devastating gas explosion destroyed Minnehaha Academy's upper school. Two lives were lost and many injured. In this moment of crisis, Minnehaha's executive leadership team looked to the Lord and got to work.
At the 2022 Northwest Conference Annual Meeting, attendees heard a presentation titled "Trusting the Good Shepherd: God's Leading Through the Valley" from a team of leaders from Minnehaha Academy, including Rev. Dr. Donna Harris, President, David Hoffner, Executive Director of Faith Formation, and Sara Jacobson, Executive Director of Institutional Advancement.
Learn practical, transferable leadership principles for your ministry setting, and hear testimony of God's faithfulness and provision through difficult times to lead this institution toward a hopeful and inspired new future.
Download the Minnehaha Academy Presentation PowerPoint
This fall, classrooms and hallways rang out with the sound of students learning and growing friendships with other children and their teachers. The staff of Minnehaha Academy thanks God for His faithfulness as they navigate educating and caring for children preschool to grade 12 during the COVID-19 pandemic.
This summer, leaders at Minnehaha Academy worked with faculty, staff and experts in the field to determine possible options for students returning to school this fall. After much discussion, the Stay Safe Plan was developed.
The comprehensive plan includes requiring a daily health screening by all in-person community members, reduced class sizes, social distancing, face masks, as well as bi-polar ionization air filtration, among other measures, designed to keep the Minnehaha Academy community as safe as possible.
Families had the opportunity to choose either distance learning or in-person learning for their children—both options offering the caring community and exceptional education that families in the Twin Cities expect from Minnehaha.
While life in the classroom looked a bit different from previous years, faculty were still able to deliver engaging, hands-on lessons.
COVID under the microscope
All Upper School students (grades 9-12) are putting coronavirus under the microscope in science class. Student scientists are investigating COVID-19 in a two-week unit developed by our faculty. Students are learning about the virus and applying a variety of disciplines in their study.
They will learn about the history of pandemics, decode the science behind the structure of the virus, study the physics of how masks work, and will delve into the Bible, remembering that God is with us even though we walk through difficult situations.
Upper School students test the state of the Mississippi River
"What's going well in the water?" "What's not going well in the water?"
These are the questions Upper School biology student scientists were tasked with answering during their study of the Mississippi River. Recently, Upper School biology student scientists spent time at the Mississippi River testing its water quality.
Teacher Ms. Cripe started out the visit with a reading of the first verse of "Oh, God of Wonders." Then she invited students to find a quiet place along the river alone to take in the beauty and think about our "God of wonders and his wonderful work."
After a student waded out into the river to get a good water sample, student teams conducted water quality tests. The students looked for cyanide, mercury, lead, nitrates, phosphates and other contaminants.
What a blessing to be within walking distance of this national treasure.
A microscopic view for Middle School scientists
"This is so cool!" "Amazing!" Wow!" "Awesome!"
Middle School scientists had a blast making microscopes, connecting them to their iPads, and then using them to take a deep look at fern samples and pond water samples. Ordinary pond water came alive under the glass of the microscope and students saw the life that is invisible to the naked eye.
Lower School writers perform digitally
Each year, first grade students participate in a writing celebration following the self-publication of a book that they write and illustrate themselves. The writing celebration includes visiting the preschool students and reading their newly published books to our youngest students.
This year, first graders had the opportunity to integrate technology into their learning. They recorded each other reading their books and then sent their video stories to the preschoolers.
Embracing creativity and flexibility
Creativity and flexibility have been key skills in creating a welcoming and encouraging environment for each of our students to grow and learn. We are thankful for our teachers and families as we work together to help our students not just survive but thrive in this challenging time.
For the latest information about Minnehaha Academy, visit minnehahaacademy.net
Minnehaha Academy dedicated its new Bethlehem Amphitheater on Sunday, Oct. 4, named for the church that has had close ties with the school for nearly 100 years.
The school is owned by the Northwest Conference and has been recognized nationally for its academic excellence. Minnehaha educates student in grades pre-K through senior high school.
The new amphitheater is part of reconstruction efforts following an explosion in 2017 that destroyed or made unusable the school's Upper Campus. The explosion killed 47-year-old receptionist Ruth Berg and 81-year-old custodian John Carlson. Carlson was a former student who grew up attending Bethlehem Covenant. The school reopened in 2019.
Donors often have buildings named after them, but the donors, who wanted to remain anonymous for this story, thought it was more appropriate to have the amphitheater named for Bethlehem Covenant said Rick Mylander, transitional pastor at the church.
The school was started in 1913, and the church began as a Sunday school class that met there in the early 1920s.
Five of the school's eight presidents were members of Bethlehem Covenant. More than 60 church members have served as staff, teachers, administrators or board members, according to congregation member David Swanson. Twenty-five members worked at the school more than 20 years, including Guido Kauls, who taught German and coached soccer for 44 years.
This story originally appeared in the Covenant Newswire. Used with permission.
Over 60 Northwest Conference Pastors gathered Oct. 7 for the 2020 Ministerial Association Digital Half Day Retreat, titled "Flourishing in a New Normal," led by the Rev. Peter Sung. Peter serves as the Conference Coach for the Pacific Northwest Conference and is finishing his doctoral dissertation on performance and organizational leadership psychology.
What Peter shared was so timely for this demanding season, discussing four key areas vital to flourishing in this time. He gave us a process document (Helping Leaders and Churches Adjust to the New Normal) which started with the topic of "Personal Well-Being" and this quote:
"The well-being of leaders is of primary importance. The nature of the leader's presence, the quality of the self that is brought to bear on the work, the relationship or the crisis, determines, more than any other factor, what happens next. How are you?"
Other important topics included leadership engagement, five key functions of the pandemic, and the timing and the gifts inherent in these moments. The recording of the retreat is available below.
Both the recording and process document are meaningful resources to help assess where pastors and leaders are personally and can be used by teams in ongoing leadership development and engagement. Sung also cited further research and resources that would be valuable for individual and group use.
What an amazing weekend of basketball for the Minnehaha Academy community! On Thursday, Jan. 2, the boys' basketball team welcomed our youngest Redhawks onto the court for a fun morning of basketball games, crafts and celebration. The boys were excellent role models for our Lower School students, making sure all students had fun and were included in the activities. The event was a fun way for families and young student to connect with Upper School student athletes and show their Redhawk spirit.
On Friday, Minnehaha Academy welcomed 2,000 people into our Upper School gym to watch two basketball games—Minnehaha Academy v. Park Center and Sierra Canyon v. The Patrick School. The games were broadcast live on ESPN 2 and ESPN 3.
Our prayer for the evening was that the Holy Spirit would be present, and that every person who came through the door would sense that abiding presence. The event was a success, and the Redhawks celebrated a victory against Park Center. Attendees left the evening with smiles on their faces after having enjoyed a great night of basketball, community and Redhawk hospitality.
On Saturday, Minnehaha Academy boys' basketball played against Sierra Canyon at the Target Center for the ESPN Clash of Champions. Fans filled up 17,378 seats (almost near capacity at the Target Center) to watch an exceptional game of basketball. Additionally, more than 17,000 fans watched the game live on ESPN3. It was an exciting and fast-paced game, with the Redhawks winning 78-58.
It wasn't just our student-athletes that shone this weekend. Student Grace Anderson's beautiful voice filled the arena on Friday and Saturday night with the National Anthem. With her strong stage presence and musical talent, she set the tone for a night of excellence.
We are thankful for the opportunity given to us to let the light of our students shine on a national stage. We are grateful for God's goodness and many blessings.
Just over 80 people enjoyed being together Oct. 7-9 for the 2019 NWC Ministerial Association Retreat at Lake Geneva Christian Center in Alexandria, MN. Peter Haas of Substance Church encouraged and inspired listeners, sharing amazing stories of how God has led and miraculously provided for Substance.
A Preaching Seminar led by Phil Print and Stephanie Williams O'Brien infused strength and renewed many in the work of preaching. Attendees also heard from Colleen Nelson, Kyle Gunderson and Hollis Kim about how God has been moving in their lives and ministry.
There was plenty of time and space for rest and retreat as well and connecting with pastoral colleagues old and new. We thank God for his renewing work among us those days.
On Sept. 29, 2019, the Minnehaha Community—alumni, current families, current and former faculty and staff, and current and former Trustees—gathered for a service of remembrance and hope at the Building Dedication. Together, we remembered the tragic events of Aug. 2, 2017, and God's faithfulness through the days, months and years that followed as we rebuilt the Upper School.
Holding the tension of tragedy and hope can be a challenge at times. We mourn the loss of two dear friends and colleagues, but also look to God's faithfulness and His promise to His people in Isaiah 43:19:
See, I am doing a new thing!
      Now it springs up; do you not perceive it?
I am making a way in the wilderness
      and streams in the wasteland.
This promise has been imprinted on many of our hearts and is what we look to as we dedicate the rebuilt Upper School to God for his glory. Composer Daniel Kallman of Northfield, MN, wrote a beautiful composition to mark this new chapter in our school's history. The piece was performed at the Building Dedication by the Minnehaha Academy Singers, Orchestra, and Symphonic Wind Ensemble. This commissioned piece is based on Isaiah 43:19, Lamentations 3:22-24, and Hebrews 10:23.
Our community appreciated the special remarks by President Rev. Dr. Donna Harris, NWC Superintendent Rev. Mark Stromberg ('74), former faculty member Rev. Paul Swanson ('51), Chair of the Board of Trustees David Anderson ('67), and Chair of the Together We Rise Campaign Marc and Alicia Belton.
A video was created for the service to mark the events that happened from the explosion on Aug. 2, 2017, to the opening of the new building. This video, along with the Building Dedication Program can be found on the Minnehaha Academy website.
Thank You
Thanks to all who worked to make the Building Dedication Service a beautiful and meaningful event. Thanks to all who attended the service and to those who have offered their support over the past two years as Together We Rise!
Minnehaha Academy's Cultural Field Experience program was back this year after missing last year due to schedule changes from the tragic explosion at the school's Upper School. What a come-back year it was!
Students, faculty and staff were spread out all over the Twin Cities, nation and world, in the 1-2 week cultural immersion program that happened this March. Participants plugged in, served and learned from local organizations, schools, building projects, arts and culture from all parts of the globe. Each group was led by one or more of our incredible faculty or staff members at Minnehaha Academy.
The majority of students participated in service sites in St. Paul and Minneapolis, including places like The Sheridan Story, The Veterans Home of Minneapolis, the International Institute of Minnesota, Achieve Language Academy and many more. Students spent the week working with kids in classrooms, packaging food for the homeless, helping teach English to ESL adults from other countries, visiting and learning from different faith backgrounds, learning about Native American culture and history, and working in a variety of ways to be of service and learn from members of our community.
Many of these experiences were deeply impactful for partner sites and students. One ninth grader, whose group worked at an Elementary school that works with a nearly 99% Somali population, reflected on one of her days saying: "I experienced Christ today through the kids because they showed me love no matter what and they were so patient. I think talking with a group of girls today was so special and meaningful because they talked to me about their culture and what they do. I am so so so thankful for this class and the group of kids I am working with."
Several students participated in CFE National and International trips as well. This year, MA had groups in Kentucky, New York City, Slovakia, Roatan, Greece and Italy, and Vietnam. Each experience—unique in its own way—was life-changing for the students and leaders. Students got a chance to work hands-on to build homes for the working poor in Appalachia, participate in a renowned concert festival in New York, experience the rich history and art of Europe, continue to build the bond between a "sister school" in Slovakia, pour into a wonderful and impactful relationship with a Children's Home in Roatan, and hike up mountains into villages to teach Hmong children in school.
The opportunities were endless and all of our students and leaders went above and beyond in representing Minnehaha, Christ and themselves in unbelievable ways!
The goal of the Cultural Field Experience program is to allow students to dive into an experience that will not only teach them about the world around them and the importance of empathy, but also to empower and equip them to learn from others and learn how much they have to offer. Ultimately, as people who bear the image of Christ, our hope is that we can be a representation of Jesus to others and this world.
We are so thankful and so proud of our students, faculty and staff for an amazing Cultural Field Experience year and all of the incredible work that was done!
About 120 pastors, chaplains, ministry staff and spouses gathered Oct. 8-10 at Pier B Resort in Duluth, MN, for our annual NWC Ministerial Association Retreat. Attendance reflected a 20 percent increase over the past three years.
The keynote speaker for the retreat was Lance Davis, newly elected Executive Minister of Develop Leaders for the Evangelical Covenant Church. Davis brought challenge and encouragement to us from Isaiah 58:1-14. The title for the experience was "Repairers of the Breach," taken from Isaiah 58:12.
His words moved back and forth from the need for each of us to give care to our own soul—with both honesty and hope—to our corporate need as a Covenant to so the same. He spoke of his confidence that the Lord wants to revive us, and further that he believes that the Lord wants to use a revived Covenant to be instrumental in reviving the Church in our country.
"As newcomers to the ECC, we especially enjoyed how people went out of their way to meet and get to know us. We felt the presence of the Holy Spirit and enjoyed the worship and sharing of Communion together," Marv and Linda Norlien said. Linda recently finished a 20-year career as an Army Chaplain, and Marv has followed her career, serving as an interim pastor in each of the communities they found themselves in, from Minnesota to Hawaii, from South Carolina to Washington. "We felt such a genuine, warm-hearted fellowship with everyone so that we immediately felt right at home with the group. … What a privilege we have to be joining this group!"
John Wenrich was able to join us Monday evening and Tuesday morning and was interviewed by NWC Superintendent Mark Stromberg about his initial journey as the newly elected President of the ECC. Themes of honesty and hope were heard again.
Worship was led by Mauricio and Jackie Dell'Arciprete (Destino Covenant Church, Minneapolis), Lisa and Jeff Olson (Catalyst Covenant Church, St. Paul), and Ben and Dre Zabel (Living Springs Church, Brandon, SD). One of the songs the team led attendees in had an unusual power in the moment we stood in. The song "Here As in Heaven" begins with the quiet lines, "The atmosphere is changing now, for the Spirit of the Lord is here. The evidence is all around, that the Spirit of the Lord is here."
As we sang together looking out the large windows of our meeting room, a storm was brewing on Lake Superior and powerful winds and waves swept in—a story that ultimately made the national news. Our worship connected with what was going on in the room, and what was going on outside, in a memorable way.
The planning for next year's retreat is now in the hands of the newly created Pastoral Care & Development Committee. Times and dates will be announced in the near future.
North Park Theological Seminary's Third Biennial Faith and Health Symposium will take place from 8 a.m. to 5 p.m on Saturday, Nov. 10. Covenant Village of Golden Valley will serve as a satellite location, hosting a livestream of the event titled "Being Well: Connecting Church, Faith and Health."
The Church has an important role in helping people be well, in addition to caring for the sick. Understanding health as shalom recognizes the integration of body, mind and spirit in human wholeness both for individuals and for communities. Now more than ever, the Church needs to claim its role in health promotion rooted in scripture and tradition, and our communities need to create opportunities for wellness for all. Working together, congregations and healthcare professionals can collaborate in responding faithfully to the challenge of health promotion, considering what can be done together that neither can do alone.
This Third Biennial Faith and Health Symposium is provided by North Park Theological Seminary and North Park University School of Nursing and Health Sciences as continuing education for healthcare and ministry professionals in service to the church. The keynote speaker for 2018 is Ruth Haley Barton.
The cost of the event if attended in Chicago at NPTS is $115, but the satellite livestream event at Covenant Village is $25 (which includes snacks and lunch).
Download the event flier, or learn more here.
Minnehaha Academy is set to host its first ever Vespers Service on February 23, 2018 at 7:00pm.
The service will be held in the Monson Family Chapel at the Lower & Middle School campus. The Vespers Service will be a contemporary worship experience led by alumni and young adults with a passion for the Lord, music, and ministry.
All are welcome to join!
Come and join with Minnehaha Academy for an amazing and passionate night of worship.
On August 2, 2017, a natural gas explosion destroyed the center portion of the Upper School. It was an explosion that shook the entire building, and it shocked thousands of people who have known, loved, and called Minnehaha home.
The decision was made to demolish the two oldest and most effected buildings and rebuild on the existing campus. Minnehaha Academy has provided two live feeds from the site, showing progress as they prepare to rebuild Minnehaha's Upper School.
Follow along with the progress by viewing the live feed HERE.
For continued updates and more information, please visit the Minnehaha Academy blog.
About 100 pastors, chaplains, ministry staff and spouses gathered at Lake Beauty Bible Camp for the annual NWC Ministerial Association Retreat, Oct. 9-11. This year represented many changes to our regular format.
Being at the one of our camps brought back memories for many and a level of extravagant hospitality (thank you Brian Alnes and staff).
Speaking slots were filled by our colleagues who are serving in the trenches with us. Paul Knight, Lead Pastor of Hope Covenant in Grand Forks (ND), Jodi Moore, Rural Ministry Partner for our mission priority of Start and Strengthen Churches, Jim Murphy, Associate Pastor for NexGen Ministries at the Covenant Church in Bemidji (MN), and Jamie Staples, Church Planting Pastor at Renew Covenant church in Eau Claire (WI).
Free time activities included such unique things as mountain biking in 400 acres of fall colored woods, horseback riding, and the building of usable guitars from cigar boxes.
Glenn Kaiser from Jesus People USA served as our worship leader and concert musician. He partnered with the worship team from Hope Covenant in Grand Forks in leading worship. His concert Monday evening during dinner was performed with various cigar box guitars (even one made from a cookie tin), using a small copper pipe fitting as a slide for the strings. The simple and piercing quality of his redeemed instruments and prophetic lyrics gave us something more than food to chew on.
The combination of all of these differences led to a unique experience—an experience that while hard to repeat was easy to enjoy.
Next year's retreat is scheduled for Oct. 8-10 in Duluth, MN, at Pier B Resort—a new resort on Lake Superior adjacent to Bayfront Park, the Great Lakes Aquarium and Canal Park.
Faculty and staff at the Minnehaha Academy Upper School applauded the 350 returning high school students as they entered the building that will be their temporary campus this year.
Classes began Sept. 5, just a month after a natural gas explosion collapsed a major section of the Upper School's building on Aug. 2, killing two people and injuring others. The Academy is leasing a building in Mendota Heights that once housed Brown College, a for-profit school that closed its doors in January.
School officials said that because the building already was being used by an academic institution, the transition was easier to make. The building has no gym or kitchen, so meals will be catered.
Over the weekend numerous volunteers helped assemble and organize 900 pieces of furniture, bring in books and other supplies, as well as do other preparations.
The school is naming an administrative section of the building in memory Ruth Berg and John Carlson, the two employees killed in the blast.
By Stan Friedman | This article originally appeared in the Covenant Newswire and is reused with permission.
On Tuesday evening, Aug. 15, two weeks after Minnehaha Academy was rocked by an explosion that killed two staff members and injured several others, nearly 1,000 people from the Minnehaha community gathered for a "Unity Walk."
Participants walked from the Upper Campus, where the explosion took place, to the Lower Campus, where the primary and middle schools are located. Minnehaha officials described the event as "an opportunity to come together" for prayer and remembrance and "look forward" to the new school year.
The gathering was both solemn and hopeful, as students, parents, alumni and community neighbors joined together to pray, sing and encourage one another.
Minnehaha Academy President Donna Harris warmly greeted marchers from the rear of a fire engine, and Minnehaha students and alumni sang "The Lord Bless and Keep You" to the first responders in attendance who were on the scene in the aftermath of the blast. The one-mile trek between campuses concluded with a fellowship time on the south campus lawn.
Earlier in the day, a communion service brought faculty and staff together to pray for the new school year. During the service, ECC president Gary Walter and Northwest Conference Superintendent Mark Stromberg each addressed the assembly.
"There are many who are rallying to the cause right now, which is tremendous," said Walter. "But in the end, it will be what happens in each individual classroom that will carry Minnehaha forward."
To that end, Walter presented a check for $10,000 from the ECC to be used toward out-of-pocket expenses teachers typically incur, especially at the start of a new year. Stromberg made an additional contribution of $10,000 from the Northwest Conference for teacher development.
Stromberg thanked the teachers and administration for their unique partnership with the Conference. He added, "While it is true that the Northwest Conference owns Minnehaha, we prefer to refer to it as a ministry of the NWC and a ministry partner. As such, our relationship is one of collaboration."
During the communion service, Harris also announced that a temporary site had been secured for the high school classes to meet at while the Upper Campus is restored: the former Sanford-Brown College in Mendota Heights. Classes are now scheduled to begin on Sept. 5. The audience greeted the news with applause.
At the service, Bible instructor Jeff Crafton brought the message. Click here to read what he shared.
Minnehaha Academy, which opened in 1913, is operated by the Northwest Conference of the ECC. The Aug. 2 explosion and building collapse took the lives of 47-year-old receptionist Ruth Berg and 81-year-old custodian John Carlson, and injured more than a dozen others.
By Ed Gilbreath | This article originally appeared in the Covenant Newswire and is reused with permission.
Dear Friends in Christ,
We have been shocked and saddened by the recent explosion and loss of life at our beloved school, Minnehaha Academy.
We especially grieve with the loved ones of Ruth Berg and John Carlson in their deaths as a result of the blast. We also remain concerned about those who have been injured and others traumatized by what they either experienced or witnessed.
As such, we are calling our NWC churches to pray for Minnehaha Academy this Sunday, Aug. 6. Would you please include the school, its leaders and the Northwest Conference in your prayer time? And, if not this Sunday, the next?
We also invite the prayers of Covenant churches beyond our region to participate, as well.
May God redeem even this for His glory and our good.
Sincerely in Christ,
Mark R. Stromberg
Superintendent
What a game! Congratulations to Minnehaha Academy Boys' Baseball team for winning their second consecutive 2A State Championship!
They defeated a solid Pierz team 6-4 at Target Field and had the support of many Minnehaha fans.
It was a great day – thanks to all of you who came out and cheered on the team to victory.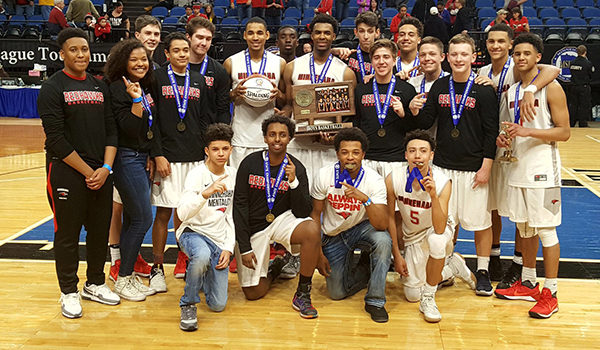 The Minnehaha Academy Redhawks captured the Class 2A boys state basketball championship on Saturday, March 25.
The Christian school is a ministry of the Northwest Conference of the ECC.
The top-seeded Redhawks, known for their offensive prowess, fought a defensive struggle to earn the 47-36 victory over Crosby-Ironton. They held the Rangers to just 30 percent shooting from the floor.
It was the school's first state championship since 2012. The team is set to make future runs as it is stacked with undergraduate talent. Freshman Jalen Suggs already is considered the nation's top high school point guard.
Coach Lance Johnson is the son of Barbara and Paul Johnson, who is a retired Covenant minister.
Solid Rock School of Discipleship and Minnehaha Academy are teaming up to host a night of worship and discussion on racial reconcilation. The evening will feature a keynote address by Dr. Michael Emerson, along with a panel discussion featuring area ministry leaders.
Date: Feb. 16 from 7-9 p.m.
Location: Minnehaha Academy Upper School
Cost: FREE & Open to the Public
Dr. Emerson will be speaking on what the biblical picture is (God's vision) of us living together as reconciled people and then from his research, giving the actual reality. Then we will have a panel of pastors who will discuss how reconciliation is (or can be) lived out in their contexts.
About Dr. Michael Emerson

Dr. Michael Emerson, one of the nation's leading scholars on race and religion, serves as provost of North Park University in Chicago. Prior to that, he was the Cline Professor of Sociology and the Co-Director of the Institute for Urban Research at Rice University in Houston, Texas. Dr. Emerson has authored or co-authored 15 books and monographs and over 60 journal articles and reports. His books include "Divided by Faith" and "United by Faith" and "Religion Matters: What Sociology Teaches Us About Religion in Our World."
Minnehaha Academy will welcome meteorologist Paul Douglas and Evangelical Environmental Network Director Mitch Hescox for a not-to-be-missed community conversation and book release event about climate change and the biblical call for Christians to care about the earth. The conversation at Minnehaha Academy will provide an in-depth look into the compelling reasons why caring about climate change isn't political, it's about being a disciple of Jesus Christ.
Paul Douglas is a respected meteorologist with 35 years of TV and radio experience. A successful entrepreneur, he appears regularly on MSNBC, CNN and other media outlets. Paul and his wife live in Minnesota. Learn more at pauldouglasweather.com.
Mitch Hescox leads the Evangelical Environmental Network (EEN), the largest evangelical group dedicated to creation care, and is quoted often in national media. Prior to EEN, he pastored a church for 18 years. Mitch and his wife live in Pennsylvania. Learn more at creationcare.org.
The first 500 attendees to this event will receive a free copy of Hescox and Douglas' new book "Caring for Creation: The Evangelical's Guide to Climate Change and a Healthy Environment."
This event will take place on Nov. 15, 2016 at 7 p.m. at Minnehaha Academy's Upper School. The conversation is free and open to the community.
RSVP to reserve your free copy of Caring for Creation: The Evangelical's Guide to Climate Change and a Healthy Environment by Paul Douglas and Mitch Hescox.
On Oct. 29, 2016, Solid Rock School of Discipleship will host a Preview Day for prospective students and their families.
Solid Rock is a 9-month post-secondary academic, discipleship program focused on developing Christ-centered disciples and leaders. It is affiliated with the Evangelical Covenant Church's Covenant Schools of Discipleship.
The event will take place at Lake Beauty Bible Camp and allow for students and parents to meet the professors and staff, tour the school, enjoy free food and participate in fun activities! Preview Day is open to students and their parents grades 9-12.
Please contact Tyler Menssen, Solid Rock Director, for more information at tyler@solidrockmn.org.
Solid Rock School of Discipleship at Lake Beauty Bible Camp will host "Boundaries in Ministry," a seminar addressing appropriate professional and personal boundaries, Thursday, Sept. 29 from 10 a.m. to 1:30 p.m. The event is for "all those serving in ministry, whether for one year or 31 years.
The seminar will be co-led by the Rev. David Kersten, Dean of North Park Theological Seminary, and the Rev. Carol Lawson, Director of Ministry Services for Develop Leaders, Evangelical Covenant Church.
Rev. David Kersten became Dean of North Park Theological Seminary in Chicago in 2012. As Dean, Kersten oversees the vision of the institution and the equipping of future Covenant pastors and leaders for mission and ministry. He came to North Park following 11 years serving as Executive Minister of the Ordered Ministry of the Evangelical Covenant Church. While serving as Executive Minister, he oversaw the credentialing, care and discipline, and continuing education of the Covenant's 1,900 credentialed ministers. Kersten has also served as pastor to congregations in Alabama, Florida, Washington and Minnesota. He has been married to his wife Sandra Kay for 37 years and they have three adult children.
Rev. Carol Lawson has served for 17 years on the Ordered Ministry team of the Develop Leaders Mission Priority. Previously she served on staff with the Northwest Conference as Director of Congregational Services in Minneapolis and on the Central Conference staff in Chicago as Christian Education Consultant Coordinator. She holds a Master of Arts in Christian Education, a certificate in Spiritual Direction, and is Ordained to Word and Service in the ECC. She has been married to Bruce for 42 years and has two adult children, one of whom is married. She believes their grandchildren, Connor (5) and Linnea (2), are the cutest kids on the planet!
Boundaries in Ministry is free of charge, and lunch will be served at 12:30 p.m. Those interested in attending should RSVP to Tyler Menssen (tyler@solidrockmn.org), Director of Solid Rock Discipleship, no later than Sept. 22.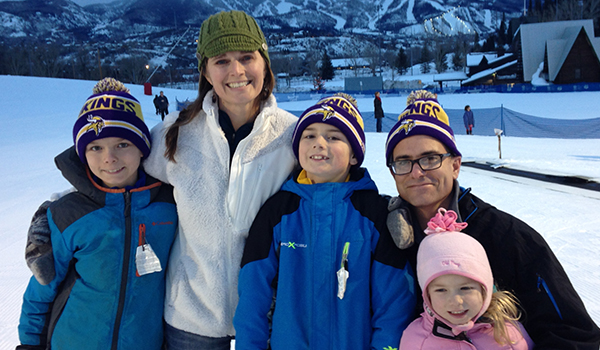 Brad Shannon, the new Camp Director at AC, has served as Lead Pastor of New Life Covenant Church in Twig, MN, for the past 13 years. An ordained Covenant pastor, he has previously served on staff at Bloomington Covenant Church and Covenant Pines Bible Camp.
Brad is no stranger to camping, having been on summer staff at Bluewater Covenant Bible Camp, summer and full time staff at Covenant Pines Bible Camp, on the board of Covenant Park Bible Camp, as well as on the Adventurous Christians Commission.
Brooke, who will serve as Guest Services Director at AC, has worked alongside Brad as a significant volunteer at New Life Covenant, coordinating the VBS program and Women's Bible studies. She has been through Tentmakers training, led multiple mission trips and served as a backpack guide in Colorado. Brooke has also worked the past 10 years as Town Clerk.
The Shannons have three children, J (11), Ryan (10) and Katie (5). Brad made news two years ago when he snowmobiled over 1,800 miles from Twig, MN, to Churchilll, Manitoba, as a fundraiser for a new church building.
"I have known Brad for many years and am excited to work alongside him and Brooke at AC," said CPM Executive Director Dave Cairns. "Brad has a heart for ministry and a love of God's creation. I'm excited for what the future holds at Adventurous Christians under his leadership."
The Shannons will begin in early July.
As guests of the Conference, they are available to visit local churches and speak about their work in God's kingdom.
During the weeks of July 14-25, Rhonda Egging and Marisete, from Sweden will be our guests. These women are helping refugees from the Middle East as they arrive in Sweden. If your church is interested in hosting them overnight or for an event in your area, please contact Global Chair, Bonnie Eng global@wmnwc.org or President, Marlys Wilson president@wmnwc.org.
Rhonda and Marisete will be joining the WMNWC bus traveling to Kansas City for Triennial. When they return from the conference, they will fly home. All of this travel, hosting and Triennial expenses are funded through Raise the Flag.
To donate to this exciting adventure, send funds to WMNWC Financial Secretary, c/o 3106 47th Ave S., Minneapolis, MN 55406.
Solid Rock Discipleship Program has named Tyler Menssen as its new director beginning April 4.
Menssen will oversee all aspects of the program: scheduling classes, working with faculty, promotion, recruiting students and coordinating churches involved in the ministry.
Solid Rock is a Covenant School of Discipleship operating out of Lake Beauty Bible Camp in Long Prairie. It serves students who have recently graduated high school and are looking to spend nine months in a community learning about God and nurturing their faith. Students can earn 26 college-level academic credits that will transfer to North Park University or select Christian colleges in the upper-Midwest.
"What drew me to this position at Solid Rock was the opportunity to lead a program I feel will provide a pathway for students to have their lives impacted positively by Christ and community," Menssen said. "I am thrilled with the opportunity to be able to walk alongside students and help them build a foundation of faith that will be instrumental regardless of what career path they follow."
Menssen earned a master of divinity from North Park Seminary in December 2015. He has been working as an assistant to the dean of NPTS on special projects and initiatives and was an assistant in the Develop Leaders mission priority of the ECC. Prior to living in Chicago, Menssen was a pastoral intern at Trimont Covenant Church, and said he looks forward to returning to Minnesota.
He was the focus of a cover story of the May 2014 issue of the Companion.
Lake Beauty Executive Director Brian Alnes said, "Tyler has a great gift of communication. God has worked in Tyler's life in such amazing ways. I hope that he will be able to share that into the lives of many young adults in the years to come."
The cover story in the June/July 2015 issue of the Companion focused on the school and the impact it was having on students, including the article's writer, Evelyn Jorgenson. For more information on the program call 320-732-3218 or email solidrock@lbbc.com.
Minnehaha is pleased to announce the appointment of its new Upper School Principal, Jason Wenschlag.
Wenschlag brings 13 years of public school administration in his roles as Dean of Students, Assistant High School Principal, and Elementary and Upper School Principal. His most recent position is principal of Richfield High School where he has served for the past three years.
Faith and commitment to Christ is strong and evident in his life.
"The most important thing I can do is continue living by grace and striving to reflect God's character. I place an incredible amount of importance on integrating my personal and professional life, and being in a position where I am growing, and I cannot imagine a better fit at this point in my career and life. God has certainly been at work in recent months and all the glory goes to him!" Wenschlag said.
In a letter sent to parents of Minnehaha students, Dr. Donna Harris, school President, said, "I am thankful for the input I received from staff, faculty and members of the Board of Trustees as I moved through a diligent and prayerful process. I believe that Jason is an excellent fit for MA at this time in the life of our school. He brings a wealth of experience in and passion for education, strategic vision, strong interpersonal skills and a humble and gentle spirit."
Wenschlag will be on campus June 11 and 12 for a "meet and greet" for those who will be on campus to spend time with Nancy Johnson and Mike DiNardo. His first official day is July 1 when he will begin getting to know Upper School faculty and members of the Board of Trustees.
Jason is married to Amy Lynn and has lived in the same South Minneapolis community all his life. He and his wife are very active members in their church, River Valley, located in Eden Prairie.
We are excited to have him aboard as a crucial part of the ministry and leadership of the Northwest Conference and Minnehaha Academy.
On May 16, 2015, Solid Rock School of Discipleship at Lake Beauty Bible Camp celebrated its first ever graduating class. The ceremony took place in the newly refurbished chapel at Lake Beauty and included nine students who shared about their experience of learning and deep spiritual growth over the past year.
Excited family members, friends, Board Members, professors and camp staff joined in as the students led music and spoke of their accomplishments and future plans. Many students shared stories of how their lives had been transformed over the past year, and all in attendance were able to watch a video of the students bestowing their wisdom and thoughts for the upcoming students of next year. Board Member Steve Weihsmann reflected on the celebration saying, "Many had refurbished lives and bore witness during the proceedings to the work of the Holy Spirit in their hearts and around their circumstance."
Keynote speaker Keith Robinson, professor in the program and Senior Pastor of Riverwood Covenant Church, addressed the graduating class with encouraging words and reflections on the "stones" of remembrance, opportunity, cornerstone and the kingdom. His address focused on the recognition of Revelation 2:17, which ended with students receiving white stones with individual names written on the back "which no one knows but the one who receives it."
Dan Pearson, Pastor and Lake Beauty Board Member, responded to the graduation by saying, "I can't say enough about how impressed I was with the nine students who graduated. It is plain to see they were handpicked by God to be there and that the Lord has wonderful things in store for each of them."
Pearson's grandfather played a key role in the foundation of Covenant Bible College, which closed in 2007.
"This further instills in me the idea that discipleship is not taught as much as caught," Pearson says, encouraged by the opening of a new program for young leaders that focuses on discipleship and personal relationships.
The ceremony ended with a time of prayer over the students and a celebratory ringing of the chapel bell by the entire class—sounding an end to one phase of life and the beginning of another.
"It is impossible to capture in a few words what was happening and being felt on graduation day," Weihsmann said. "They are now equipped not completely, but solidly, to go and rock their world!"
Congratulation Solid Rock Class of 2015!
The Board of Directors of the Covenant Pines Ministries is pleased to announce the hiring of David Cairns as Executive Director. His overall responsibilities will include Adventurous Christians Ministry, Covenant Pines Bible Camp Ministry, Day Camp Ministry, and Silver Beach Ministry.
Dave comes to us with a wide breadth of relevant knowledge and experience. This includes terms as Executive Director of Pilgrim Pines Conference Center of Swanzey, NH and Associate Director of Covenant Pines Bible Camp of McGregor, MN. Dave is a graduate of North Park Theological Seminary and is an ordained Covenant Minister. He and his wife Becky have three children: Drew–16, Trent–14, Annis-11.
Dave will assume his duties as Executive Director of Covenant Pines Ministries at the conclusion of the summer.
Covenant Trust Company will host two Duluth events featuring its President Ann Wiesbrock.
On May 17 area Covenant pastors and church leadership teams are invited to a lunch at First Covenant Church in Duluth. This lunch will provide opportunity to meet Wiesbrock, hear updates on what's new at CTC, and learn more about its mission to be a unique financial resource for you and your church community. Download the event invitation for more details.
A May 18 presentation titled "Women & Finance … Let's Talk!" will take place at Lakeview Covenant Church in Duluth from 9:30 to 11:45 am. The presentation is designed for women of all ages and will address financial preparedness for women who find themselves the sole financial decision maker at some point in their lives. Down the event invitation for more details.
Minnehaha Academy captured its first-ever Class 2A boys' basketball state championship on Saturday with a last-second defensive stop that preserved the 56-54 victory over Litchfield.
The prep school is a ministry of the Northwest Conference.
The Redhawks (24-6) entered the tournament as the top seed. They adjusted their style of play throughout the tournament, and pulled out wins whether playing up and down the court in the semi-finals or the slow half-court finals matchup.
Saturday's game was close throughout and remained in doubt until the final buzzer. Minnehaha's John Pryor and Kaharri Carter denied a last-second Litchfield layup attempt.
Redhawk Marcellous Hazzard told the Minneapolis Star Tribune, "We adapt. We're chameleons that adapt to anything."
The lead in the game changed six times and the score was tied four times. Minnehaha Academy's largest lead was six points and Litchfield's largest lead was one.
The first state title is a great way to celebrate the school's Centennial.
The Evangelical Covenant Church (ECC) is seeking a Director to start as early as April 1, but no later than May 1, within the Department of Compassion, Mercy, and Justice (CMJ).
The ECC is a rapidly growing multi-ethnic denomination with 820 churches domestically and additional ministry partnerships in over 30 countries.
The Department of CMJ seeks to serve the local church in addressing the mission priorities of the ECC with a holistic focus on Love Mercy-Do Justice. Ministries of compassion and mercy stretch far and wide as the ECC responds to domestic and global needs. CMJ builds on that strong foundation and continues to lead and coordinate efforts as we "join God in making things right in our broken world."
Visit CovChurch.org for more information about the ECC and CMJ. Covenant Offices is located in Chicago, IL.
The Evangelical Covenant Church (ECC) is seeking an executive director of strategic communication. The executive director of communication will serve as visionary, senior leader in the church's messaging and publishing efforts. The successful candidate will help shape the mission message to tell a great story, and guide the communication of the church's priorities to both internal and external audiences across all available channels and forms of communications.
The executive director will oversee and manage a professional team, creating and leading a vision for communication that can fulfill and complement the needs of the ministry departments and the denomination as a whole.
The ECC is a rapidly growing multi-ethnic denomination with 800 churches domestically with additional ministry partnerships in nearly 30 countries. See www.covchurch.org for more information. This position will be is located at denominational headquarters in Chicago, Illinois.
Read the full post about the position and download a more complete description here.
You are invited to an evening of gospel music, with all proceeds going to help kids in need have a chance to go to Covenant Pines Bible Camp. This benefit is Sunday, Nov. 4, 4-7 p.m., at the Robert L. Williams Fine Arts Center on the north campus of Minnehaha Academy. Silent Auction begins at 3 p.m. (an hour before the concert) and continues during intermission. Purchase tickets at gospelcelebration.eventbrite.com or at the door.
Robert Robinson: The Minneapolis Star Tribune named Robert "Minnesota's Master Male Vocalist." Robert served as Executive and Artistic Director of the Twin Cities Community Gospel Choir for 20 years. He was a two-time Minnesota Music Award Winner for Best Gospel Artist and Group. His music catalog includes 12 solo projects and many collaborations.
Tecora Rogers: Born and raised in Chicago, Tecora is a prolific and internationally renowned singer, composer, teacher, and producer. Her musical roots can be traced back to singing in her church choir at the tender age of 6. Inspired by her spiritual upbringing and her love of jazz, Tecora infused the two musical genres creating "power jazz," which combines the complexity of jazz with the electricity of gospel, a sound that differentiates her from other jazz musicians.
Come for an entertaining evening while supporting kids who would love to spend a week next summer at Covenant Pines Bible Camp!
Recent flooding at Covenant Pines Bible Camp has forced the cancellation of several camp sessions and caused unprecedented damage to the camp and Silver Beach Family Area properties.
According to the CPBC website: "Round and Davis Lakes are about 5' above their normal water levels. These lake elevations cause flooding of the ball field with up to 3' of water, the Davis Lake trail was under 3' of water and the access to camp on the county roads were under 14" of water.
"The high water caused one of our septic systems to collapse at Silver Beach. The lower level of the Silver Beach house had a foot of water, causing some significant damage to the walls and flooring and to furniture."
To read more about the flood losses and learn about the new Flood Fund established to help offset financial losses, click here.
The 2012 Founder's Day Celebration Service will take place at 6 p.m. on March 18 at Covenant Village of Golden Valley. Executive Director for Ministry Development, Dick Lucco, will be the featured speaker.
An offering will be taken to benefit covenant ministries, and light refreshments will follow the service. For directions to Covenant Village, visit http://www.covenantvillageofgoldenvalley.org.
Adventurous Christians is celebrating another successful year of wilderness ministry. The theme for 2010's fundraising banquets is: "Led By God: 40 years in the Wilderness"
"AC has wrapped up its 40th year in ministry and the prospect for this small, quaint ministry to continue strong has never looked brighter," said Mike Nelson, camp director.
Details:
First Covenant Church, Duluth // Friday, Oct. 29
6:00 p.m. Gathering Time
6:30 p.m. Dinner
Salem Covenant Church, New Brighton // Saturday, Oct. 30
5:30 p.m. Gathering Time
6:00 p.m. Dinner
A Silent Auction will be held at the Twin Cities event; must be present to bid. Preview auction items and download invites and response cards at www.adventurouschristians.org. Please mail your Response Card by Oct. 10.
"We invite you to come and help celebrate Adventurous Christians and to hear of the great things He is doing," Nelson said. "Your presence at one of these banquets is important to us. If you cannot attend one, you can still support AC through the use of programming, prayer, volunteering, and/or with your year-end giving."
A new name, "Renewal Event" with a theme focused on HOPE. Friday night Vanessa Gamble will present "The Bigger Picture," Saturday is filled with worship, inspiration, growth events, service opportunities and ministry moments.
Join us on March 26 & 27 at the Evangelical Covenant Church in Alexandria, MN. Click here visit the Women Ministries page with links for more details and downloadable material for registration. ALL women are invited.
We are pleased to announce that the 2009-2013 Centennial Long-Range Plan Brochure is now available from the Minnehaha Academy website under the heading, ABOUT US. We have received a number of requests for additional copies of this brochure in recent months and it is our hope that this new and convenient access to the Centennial Plan from our website will provide a more ready access for all.
Susan Gilbertson
Assistant to the President
Minnehaha Academy
(612) 728-7720